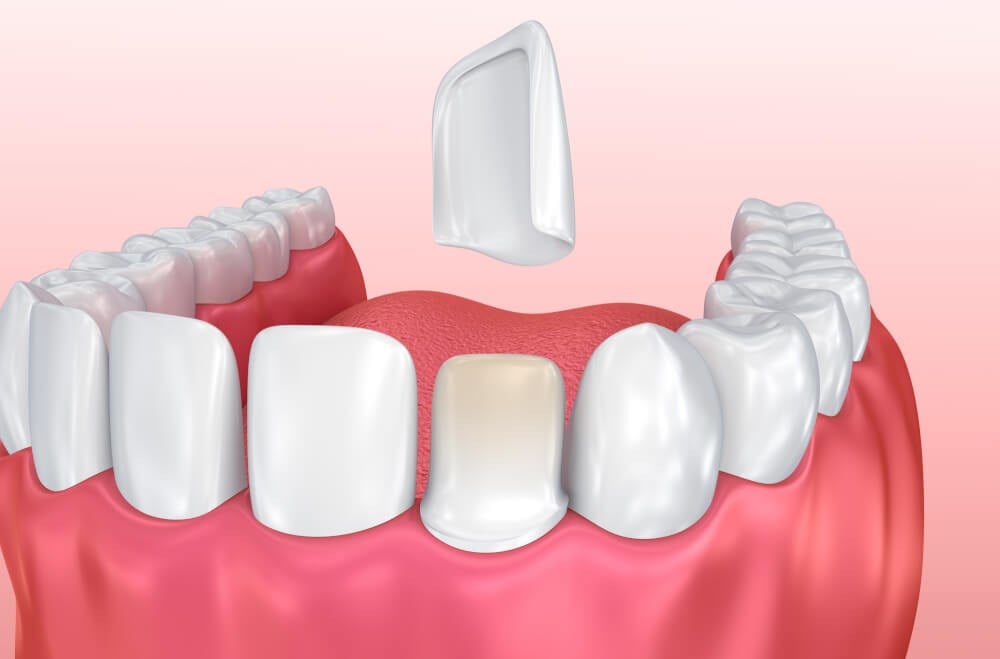 The first veneers were used in Hollywood by a dentist named Dr. Charles Pincus in the 1920s. He wanted to find a way to make his celebrity patients' teeth look perfect during filming.

After years of research, he came up with little removable caps that fit over a person's teeth.

Since then, veneers have come a long way. Yet, they still give people Hollywood-worthy smiles. Read on to learn everything you ever wanted to know about cosmetic porcelain veneers.
What Are Cosmetic Porcelain Veneers?

Veneers are thin shells designed to cover the front of natural teeth. Their role is to improve the appearance of a person's smile.
Thin pieces of porcelain are custom made for each individual tooth to give it beauty, strength and durability.

Porcelain veneers are often used when natural teeth have an undesirable color, shape, or contour. We may also use them to fill small gaps between natural teeth if patients are too impatient to do orthodontics.

The veneers are attached by bonding the thin porcelain shell with an adhesive to the original tooth. A resin between the tooth and the veneer provides a strong bond and is hardened when the dentist shines a curing light over the tooth.
What Are Cosmetic Porcelain Veneers Used for?

Porcelain veneers improve patients' smiles in a variety of ways. They can be used to cover stained or discolored teeth due to root canals, excess fluoride, or certain drugs - situations where tooth whitening products won't work
Veneers can be used to repair teeth that are worn, chipped, or slightly crooked. Dentists will even apply veneers on teeth that have craters or bumps on the surface, that are too short.

Veneers make teeth look smooth and white. Premium veneers look like natural teeth and closely match coloration and striations of teeth not treated.
Benefits of Veneers

The main benefit of premium porcelain dental veneers is that they're indistinguishable from natural teeth.

The high-quality porcelains that are used for premium veneers reflect the light in the same way that natural teeth do. Your smile will look perfect in real life and in pictures.

Unlike cosmetic bonding, porcelain veneers don't stain easily and can last for 10 to 15 years or more. They resist coffee, tea, and cigarette stains. This means you can enjoy a beautiful white smile no matter what.

Only Da Vinci porcelain veneers from DaVinci Lab in Hollywood offer patients a true Hollywood smile and a limited lifetime warranty. We here at Dallas Laser Dentistry have partnered with the craftsmen at DaVinci for two decades, providing award-winning cosmetic dentistry and stunning, yet natural appearing smiles.
What Does the Procedure Involve?

Getting porcelain dental veneers typically can be done in two visits. Usually a patient has already been in for a free smile consultation and digital simulation of their smile, so we know what and how they wish their smile developed.
The First Appointment

This first treatment visit will take about two hours. During this appointment, your teeth will be prepped for your new veneers. We'll will file down a bit of your tooth's enamel (about 1/2 millimeter), roughly the thickness of the veneer, to make room on your tooth for the porcelain shell.

We then take a laser digital 3D impression of the teeth being treated and those around it. That impression is sent to an experienced DaVinci craftsman who will create the custom porcelain veneers for your teeth.
The Second Visit

Your second visit will take place when your custom veneers arrive, which is usually in about two weeks. This appointment takes one or two hours from start to finish.

First we etch your teeth. Etching makes the surface slightly rough in order for the bond to be as strong as possible.

We will place all the veneers on your teeth so we and you can look at the color and the fit. We can easily make minor adjustments at this point because the veneers hasn't been permanently bonded to the teeth.

Even the color of the veneer can be slightly changed. Veneers are semi-translucent, so the color of the cement will affect the shade.

Next, we put a special cement glue on the veneer and then place the veneers on each tooth, shining a special light on each tooth to cure the cement in place before moving to the next one.

Finally, we remove any excess cement and check your bite. We give you a mirror so you can see your beautiful new smile!
We'll have you come back for a follow-up in a few weeks so we can see how your gums are reacting to veneers.
Ideal Candidates for Porcelain Dental Veneers

Many people would benefit from porcelain dental veneers.

If you are the type of person who wants results right away, consider porcelain veneers. Your smile could be completely transformed in just a couple of weeks.

People who smile without showing their teeth are excellent candidates for veneers. The level of confidence they will enjoy once they have veneers will be life-changing.

Individuals with stained or discolored teeth will love the smile they get from veneers. Those who are unsatisfied with other whitening treatments will be happy with the results as well.
Porcelain Veneers vs. Crowns

Both crowns and veneers are forms of dental restoration. The main difference between a veneer and a crown is how much of the natural tooth is removed and how much of it is covered.

Porcelain veneers are used when much of the tooth is healthy, while a crown is preferred if there is extensive decay that requires removal of more tooth structure.

While veneers cover the front and sides surface of the tooth, a crown is wrapped all the way around the whole tooth. Crowns are often made of metal, porcelain, or a combination of both.
Restore Your Smile with Cosmetic Porcelain Veneers

We hope this article on cosmetic porcelain veneers has given you a basic understanding of the whole process and its benefits.

If you're looking for a beautiful new smile, cosmetic porcelain veneers from DaVinci are the way to go.
Contact us to schedule a free smile consultation today and see if you're a candidate for DaVinci veneers!