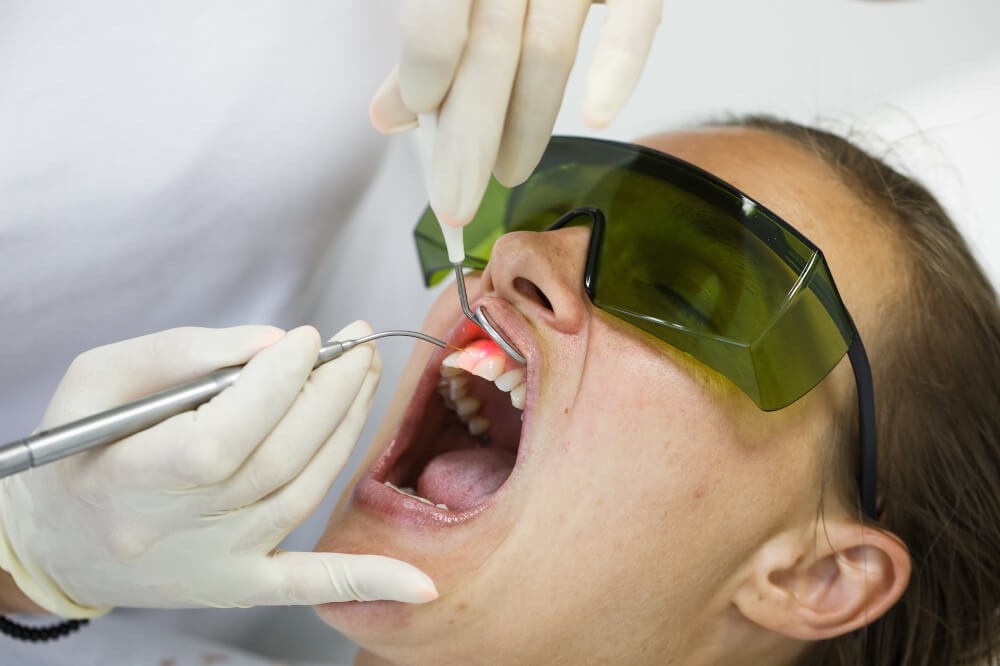 What's the secret to a brighter, whiter, and healthier smile?
Good oral hygiene has always been the cornerstone to a better smile. But as we age, it's not uncommon for our oral health to take a turn for the worse. 1 in 7 adults has gum disease, and this is especially the case among those aged 65 or older.
Our smiles are a reflection of our oral health. But our teeth can naturally lose their luminosity over time.
Luckily, medical and cosmetic dental treatment is as advanced as it's ever been. Laser dentistry has been a strong force in modern dentistry for the last 20 years, in particular.
If you're looking for a better smile, dental laser treatment may be the best option for you!
What Is Laser Dentistry?
Traditional dentistry involves the use of instruments like drills, buffers, and steel picks. Many patients fear going to the dentist because of these instruments. But this is less of the case nowadays.
In the 1990's, more dentists began to use dental laser technology. These lasers complement - and even replace - the need for traditional dental tools.
There are different types of lasers that dentists use for medical and cosmetic purposes.
Soft Tissue Lasers
Within our mouths, there are soft tissue layers, as well as hard tissue. The gums make up the majority of the soft tissue layer.
Soft tissue lasers treat gum disease and reshape the appearance of the gum line. They work by transmitting light that water and hemoglobin in our gums absorb.
Soft tissue lasers speed up the recovery time for dental laser surgery in a few ways. First, they vaporize dead tissue faster and more precisely. This reduces damage to surrounding tissue.
They also seal off blood vessels more efficiently. This helps to speed up the regrowth of gum tissue. And because they're more thorough in killing bacteria, they reduce the likelihood of infection.
Hard Tissue Lasers
Tooth enamel and bone make up the hard tissue in our mouths. Whereas soft tissue lasers correspond with hemoglobin, hard tissue lasers target hydroxyapatite, a mineral naturally found in our teeth and enamel.
Hard tissue lasers help to remove old fillings and sterilize the affected area. They help in prepping and shaping a tooth before dental bonding procedures.
In certain cases, patients can undergo both hard and soft tissue laser treatment. For example, a patient may need hard tissue lasers to remove an old filling. They may also require a soft tissue laser to remove decaying tissue around the affected area.
Now that we understand how soft and hard tissue lasers work, let's explore the overall benefits of dental laser surgery.
Less Invasive Gum Surgery
In non-severe cases, routine dental cleaning can remove cases of gum disease. Scaling and root planning target difficult plaque and tartar from under the gums. In severe cases, dentists will perform bone grafting or soft tissue grafting.
With laser dentistry, however, it's now possible to treat gum disease without these types of surgery.
During laser gum surgery, dentists first remove inflamed tissue using soft lasers. These lasers reduce bleeding and swelling significantly. They also reduce the need for anesthesia. However, in some cases, dentists may still administer some level of sedation.
Dental lasers remove inflamed tissue better than any other dental instruments. They don't involve the same method of scraping which you'll experience during a scaling procedure.
After preparing the site and removing inflamed or dead tissue, dentists are then able to smooth over the affected area. This helps in preventing future infections.
Dentists can also apply these techniques for correcting uneven or disproportionate gum lines. Because they're less invasive, patients experience faster recovery times.
Improved Detection & Removal of Cavities
Dentists administer X-rays to search for cavities that aren't visible to the eye. But in recent years, there have been growing concerns about the risks of dental X-rays.
With the KaVo DIAGNOdent laser pen, it's not only easier to detect cavities. It's also safer.
After cleaning a patient's teeth, dentists administer the KaVo DIAGNOdent pen. The laser produces sound and displays fluorescent light when it detects tooth decay. Dentists can also measure the extent of the decay by the amount of light reflected.
It's important to note that the KaVO DIAGNOdent doesn't treat tooth decay and cavities directly. Hard and soft tissue lasers can remove tooth decay and rot. They can also remove the need for traditional drills when it comes to filling cavities.
There are times when dentists may use lasers in correspondence with drills. But the lasers still speed up and ease the process of removing old fillings. And because lasers sterilize, it's less likely that infections will develop after fillings.
Whiter Smiles
Our teeth stain and turn yellow as we age. Tobacco, coffee, wine, and dark-pigmented foods can also stain our teeth. Luckily, there's laser tooth whitening, which can create a younger and whiter smile in just one hour.
During a whitening procedure, dentists apply a gel to each individual tooth. Then, dentists administer a diode laser on each tooth.
Laser whitening is not only more effective than over-the-counter whiteners. It's also more comfortable for patients.
The results will last longer the better the patient cares for their teeth afterward. To maintain the results for longer, it's recommended to have laser whitening twice a year.
Better Crowns, Veneers, & Bridges
People dread going in for routine dental cleanings as it is. But when it comes to crowns and veneers, these procedures take discomfort to a whole new level.
Laser CAD/CAM technology has changed the nature of these procedures. This type of laser technology not only produces more precise teeth impressions in less time. They're also more comfortable for patients.
The Itero laser, in particular, creates some of the most precise scans of teeth around. It complements Invisalign treatment better than any other traditional impression method. CAD/CAM lasers then create the crowns, veneers, or bridges, often the same day as the impressions.
Is Laser Dentistry Right For You?
Dental lasers are at the forefront of modern dentistry's evolution. Patients are not only getting the smiles of their dreams. They're enjoying going to the dentist more and reaping all the benefits of a brighter smile... faster and pain-free!
Are you located in Dallas, Texas? Are you interested in laser dentistry treatment? If so, contact us today to learn more about how we can assist you!